Black Metal Concentrated Laser Marking Powder
Regular price

$103.63

Sale price

$103.63
Shipping information

• Ships Worldwide - DDP
• No Hidden Fees, Prepaid Duties and Taxes
• Free shipping on orders over $100 in the US only.
• Ships same business day* in the US and Canada, delivers in 1-4
• Delivers within 4-10 business days for the rest of the world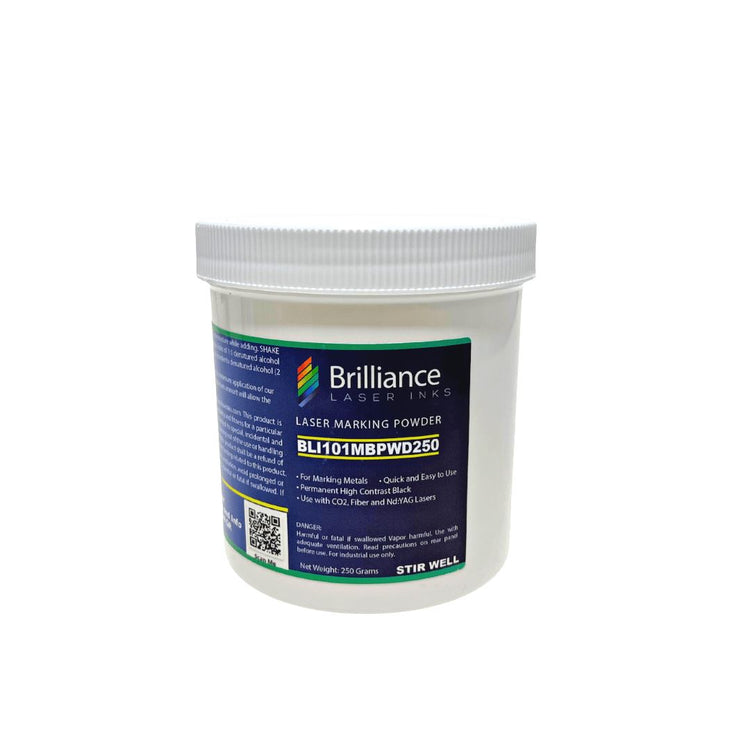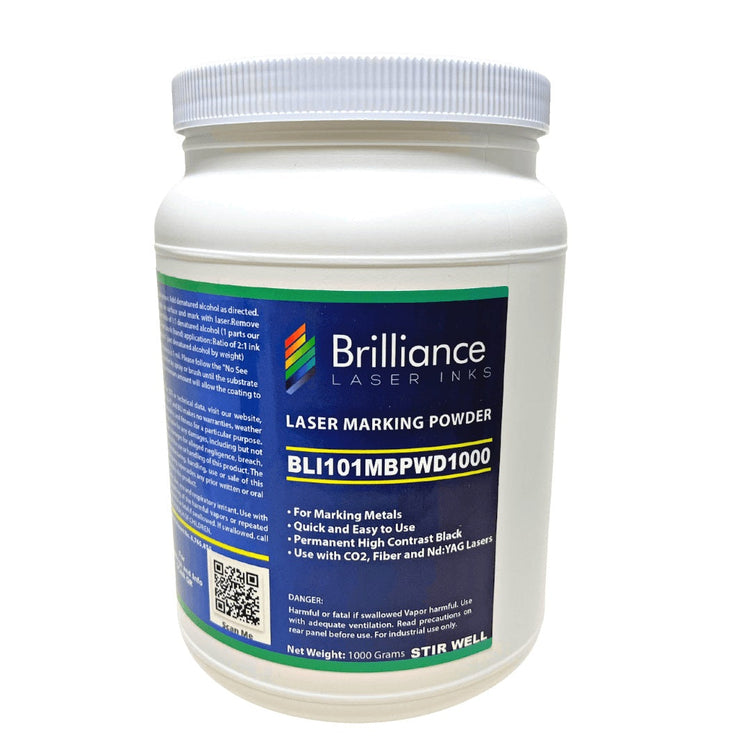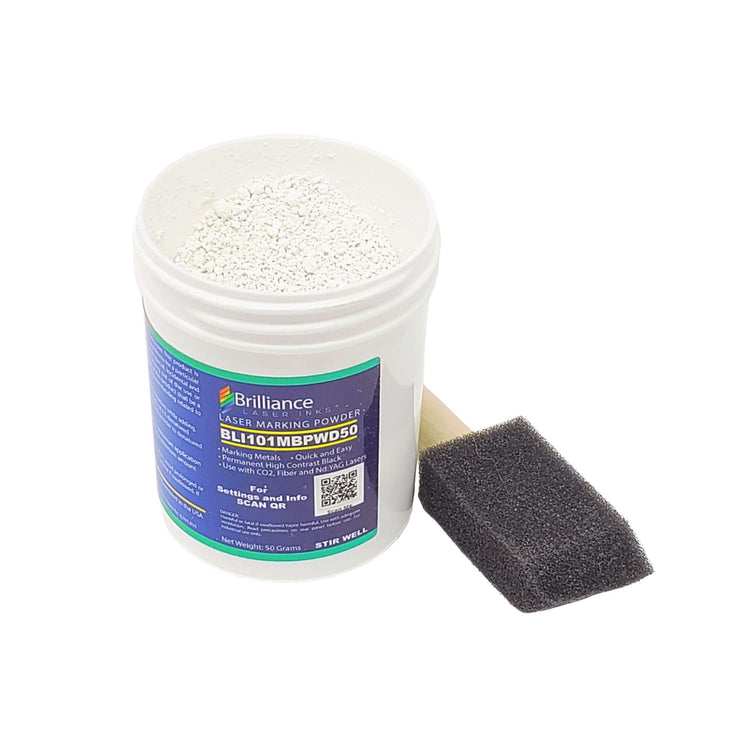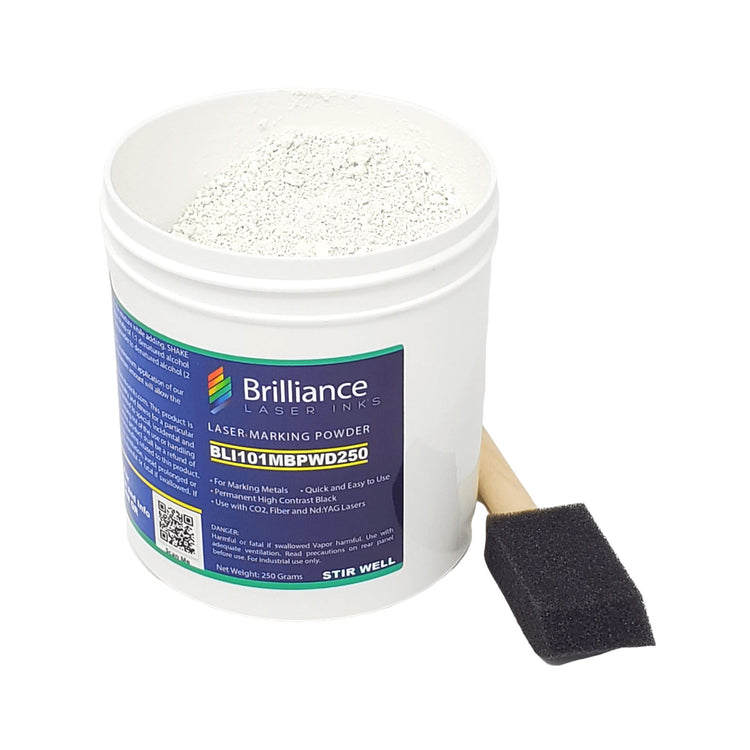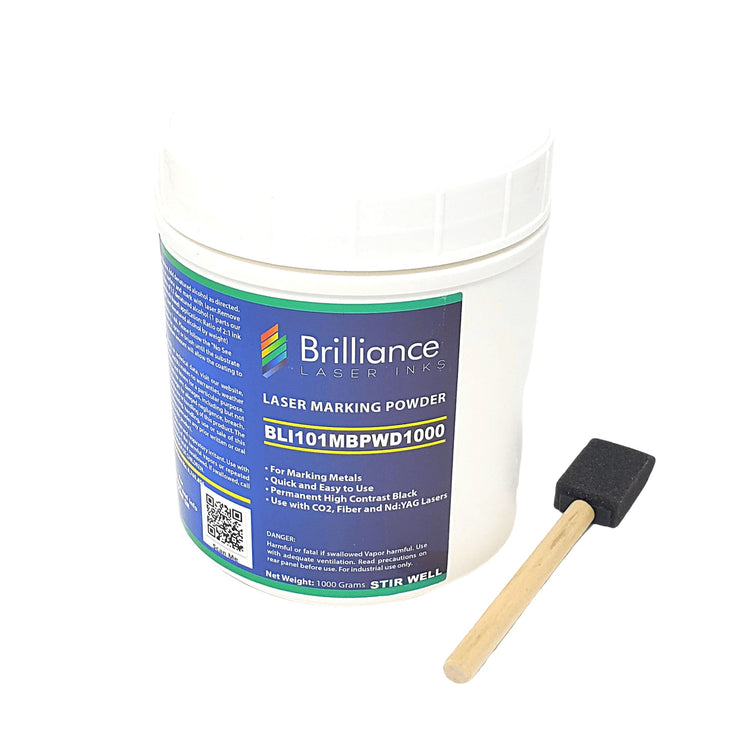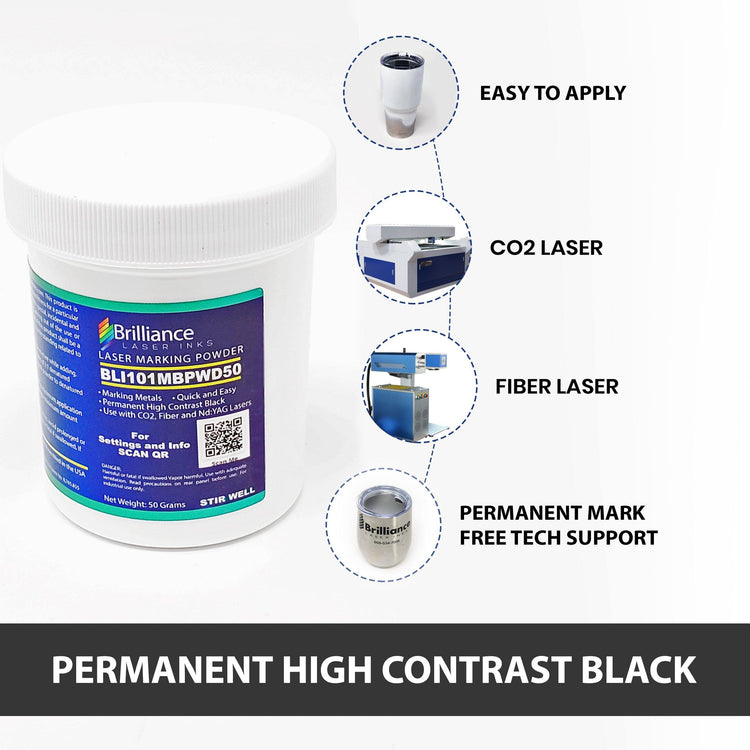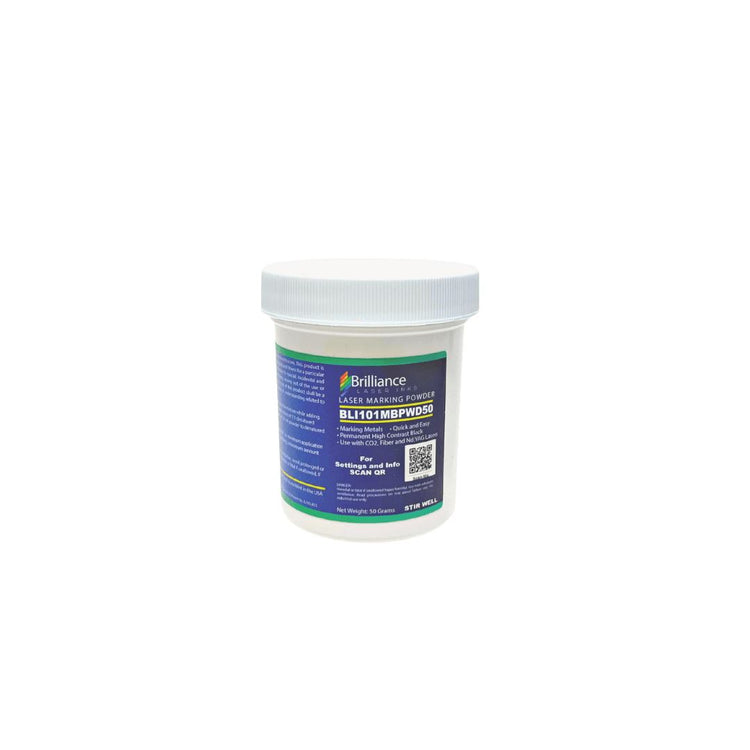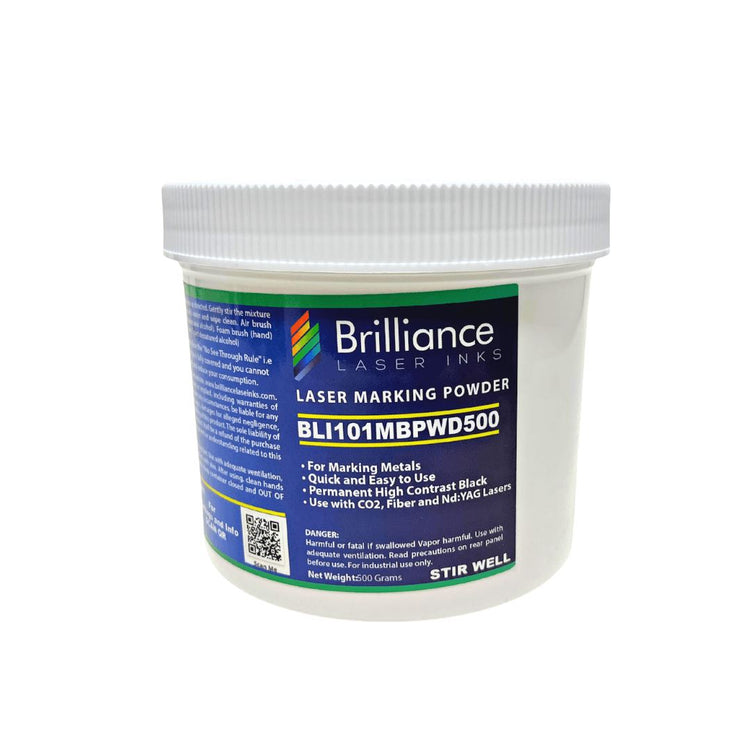 Why Brilliance Laser Inks?
Laser marking made easy with Powders (in 2oz & 12 oz)

Exceptionally adaptable laser marking inks to create high quality permanent mark on a various metal surfaces.

Get to explore our powder products that fit your needs. From personal projects to bulk production, we've got you covered! You can stock up on laser marking inks and buy from 50 g up to 1000 g of powder.

Note that this product does not include any alcohol in the package. Below application tutorial is for instructional purposes only.

Easy to apply. Easy to wash off.
Anti-Clog Technology (designed for spray system)
Permanent Mark
Quick to dry
Marks on various metals
Up to 40,000 square inch of coverage
Perfectly compatible with CO2 and Fiber Laser Nd:YAG Laser Systems
Step 1

Clean the substrate with denatured alcohol so it's free of any dirt and oil. Weigh and mix denatured alcohol to the desired amount of powder to create a solution in a separate container.

Suggested powder to alcohol mixture:

Brush Application: 1:1 ratio by weight (e.g. 5g of powder to 5g of alcohol)

Spray Application: 1:2 ratio by weight (e.g. 5g of powder to 10g of alcohol)

*Double the coverage with spray application!

Step 2

Brush Application: Every purchase of our liquid ready comes with one (1) foam brush applicator. Apply even coats with foam brush as long as you do not see the substrate through the coat.

Spray gun, air knife or preval application: Use a spray gun or air knife, or screw on a preval spray system to the bottle and spray evenly just like an aeresol spray.

Allow the solution to dry fully or use a hair dryer or heat gun to dry it in seconds.

Step 3

Adjust your laser settings and focus the beam on the substrate then make your mark!

For guidance, refer to the table below for suggested starting parameters for your laser and substrate. For optimal results, you may need to adjust the parameters for your specific laser.

Step 4

You may instantly wash off the excess ink with water or a damp cloth. There is no waiting time needed!

Voila! You now have a permanent mark on your finished product.
Substrate
Power
Speed in Percent
Speed in mm/sec
DPI
General Metals (Tool steel, Stainless, Mild steel etc.)
30W
10%
100
350-500
100W
30%
300
350-500
Aluminum
30W
1%
50
350-500
100W
5%
100
350-500
Brass, Copper and other similar high heat conducting metals
30W
3%
75
350-500
100W
10%
150
350-500
**Disclaimer The above is general starting guidelines, settings may vary for different lasers and or grades of substrate
| Substrate | Power | Speed in mm/sec | Q-frequency | Hatch or DPI |
| --- | --- | --- | --- | --- |
| Stainless Steel | 10W | 50 | 200 - 500 KHz | 0.1 mm |
| Aluminum | 10W | 50 | 40 - 80 KHz | 0.1 mm |
| Brass | 10W | 50 | 40 - 80 KHz | 0.1 mm |
| Copper | 10W | 50 | 40 - 80 KHz | 0.1 mm |
| Titanium | 10W | 50 | 200 - 500 KHz | 0.1 mm |
**Disclaimer The above is general starting guidelines, settings may vary for different lasers and or grades of substrate **Please note power,speed and Q-Frequency units match with your laser ** Q-Frequency: You may need to go to advanced settings to change the Q-Frequency above 80 KHz